In the United States, almost 40% of men and women will be diagnosed with cancer in their lifetimes. And only 20% of those with a late-stage diagnosis will survive past five years. 
It's impossible to treat cancer if you don't know you have it—and when you finally realize you do, it's often too late. 
EDISON BIO has partnered with GRAIL's Galleri Multi-Cancer Early Detection Test to provide Members with a new way to detect cancer early—before it progresses too far.
A Better Way to Screen for Cancer – Galleri Multi-Cancer Early Detection Test
Most traditional cancer screenings are singular in scope, focusing on one organ and testing for one specific type of cancer. Too often these screenings miss cancers growing inside of you that aren't being tested for. The Galleri Multi-Cancer Early Detection Test's new technology is transforming the fight against cancer by expanding how thoroughly and early these cancers can be detected. 
For the general population, the chance of receiving a cancer diagnosis in your lifetime is 39%. The leading cancers in the U.S. are Breast (12.9%), Prostate (12.1%), Lung (6.3%), Colon (4.2%), Uterine (3.1%), Melanoma (3%) and Bladder (2.4%). While over 1.89 million people will be diagnosed with cancer in 2021, 1.3 million of those cases will not have been detected through routine screenings. 
Using leading technology, science, and large clinical studies, GRAIL has developed a new and powerful way to screen for various cancers at once, revolutionizing how cancers are diagnosed. Through their innovative Galleri Multi-Cancer Early Detection Test, GRAIL can take a patient's blood sample and analyze it to identify the potential presence of over 50 different cancers, including those that aren't routinely screened for: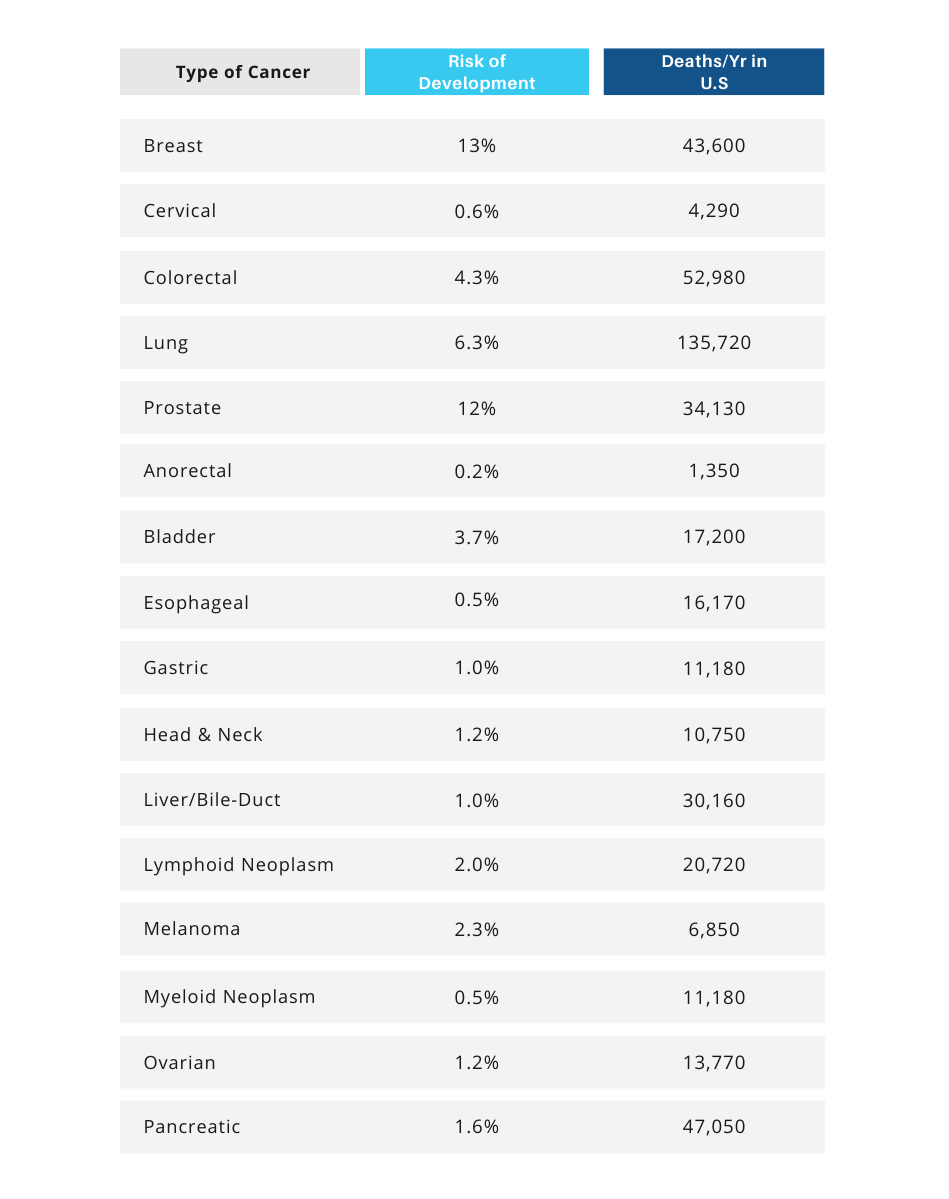 Using genomics and machine-learning, the Galleri Multi-Cancer Early Detection Test can not only determine what cancer you have, but also where that cancer is located in your body with 89% accuracy. Out of 1000 people tested, an average of 10 will have a positive cancer diagnosis, allowing them to treat their cancer proactively and most effectively.
Early Detection, Effective Treatment 
EDISON BIO is on a mission to redefine health care from being reactionary and focused solely on treatment to being invested in preventative care. Members at EDISON BIO can feel confident that they are taking a proactive approach to cancer prevention and that the most advanced technologies are being used to evaluate and treat health risks as quickly as possible. 
EDISON BIO offers the most advanced understanding of your mind and body ever created. The incorporation of the Galleri Multi-Cancer Early Detection Test in their Executive Health Exam provides just one of the many opportunities to catch health challenges early. If a cancer is detected, EDISON BIO connects Members with the best specialists in the world for many of the rarest types of cancers within 48 hours.
The partnership between GRAIL and EDISON BIO highlights how the future of healthcare is dependent upon the continued innovation of new technology. Providers who fail to invest in these leading technologies will continue to fall behind and provide poor patient outcomes. EDISON BIO is proud to use the Galleri Multi-Cancer Early Detection Test to provide its Members with the most advanced care available, giving them the best chance to optimize their longevity and performance. 
About EDISON BIO
Most of us worry about our health. EDISON BIO advanced, comprehensive, and convenient health screening uncovers hidden disease and health challenges early. You'll be confident about your health and primed to perform at your highest potential.